11
Is TranscribeMe A Scam? Find Out In This Review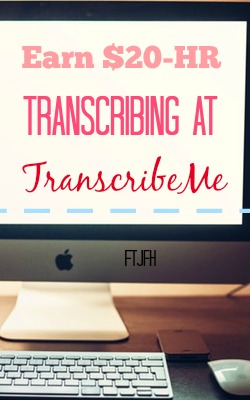 I recently came across a site called TranscribeMe. I wanted to write a review and find out is TranscribeMe a Scam?
From what I've found this is a scam free work from home opportunity. With this site, you'll be transcribing short audio files to text and getting paid cold hard cash. If you'd like to learn more about transcription, there's an excellent free course at Transcribe Anywhere that you should check out.
There is a lot of little details about this opportunity, so I've broken them all down in this TranscribeMe Review.
Let's go ahead and get started and see how you can work from home transcribing short audio files.
---
TranscribeMe Review
Website: TranscribeMe.com

Price: Free To Join
Verdict: Legit Scam Free
In this TranscribeMe Review, I marked this site scam free. This is a legit work from home opportunity that can make you some extra money in your free time.
I liked the payment system and how easy the work is. There were a few concerns, but overall this site is good.
I recommend TranscribeMe to anyone looking to make money by transcribing short audio files.
---
How Does TranscribeMe Work?
After you join and get accepted (covered next) you can begin working immediately. When you log in you will see all the audio files available for transcription.
All you need to do is click on the files, which are usually around 10 seconds, listen and transcribe the audio.
Review your transcription and then submit. Your transcription will be approved by a reviewer, and then you get paid for your transcription.
---
TranscribeMe Requirements
The requirements for TranscribeMe are very simple. This opportunity is open to anyone who has a PayPal account, which means it's open worldwide to any country that can sign up for a PayPal account.
You will need to be fluent in English because almost all files are in English. It's also a major advantage if you can type accurately and pretty fast.
You, of course, need a computer along with high-speed internet access. They also highly recommend having a headset and foot pedal.
---
TranscribeMe Application Process
The TranscribeMe Application Process is very simple. You first need to apply on their website. Just fill out some personal information no job or education information is required.
You then are taken to an explanation video. This video explains that application process, how to navigate the site, and how the transcription process will work.
Next, you will have to pass an easy exam. You will hear about 10 seconds of audio and will need to transcribe it. You have 5 minutes to complete the exam and can listen to the audio file as much as necessary. After you're done, submit, and if you were accurate, enough you're excepted into the program and begin working immediately.
---
How Much Does TranscribeMe Pay?
So it seems that there are a few different payment structures based on when you join. I'm assuming that you have not joined yet so if you join today you will get paid $20 per audio hour.
Now this is per audio hour which means you will need to transcribe 1 hour of audio files to earn $20. You're not paid $20 for one hour of your time, but with the files being very short it doesn't take very long to complete each transcription.
On their website, they do say that some special audio files do pay more, but there are usually some special qualifications like speaking another language to complete these files.
Payments are made through PayPal Weekly. You can request a payment as long as you have $1 in your account.
---
TranscribeMe Positives & Concerns
Positives
Available World Wide
TranscribeMe is available to anyone who has a PayPal account so as long as your country can make PayPal accounts, you can make money.
Short Audio Files
Since the Audio Files are very short, it makes it easy for beginners to get started and only takes a few minutes to complete each audio file.
PayPal Payments
I love getting paid by PayPal; it sucks that there are no other options, but for me, PayPal is the best way to get paid.
Easy To Join
I liked that the application process and exam were very simple. I've seen some sites that have a difficult test to pass. It shows you that TranscribeMe is fine with having complete beginners work for them.
Concerns
Difficult Skill To Pick Up
I've done a little bit of transcription for some of my YouTube videos, and it isn't as easy as you might think.
If you type fast and accurate, it will make it much easier, and since the audio files are short and clear, you should have no issue catching on quickly.
---
Is TranscibeMe A Scam?
TranscribeMe is a good site that is not a scam. I like that they are happy with hiring newbies, and you can tell from how easy they've made it to join.
The only concern is this might not be a good option for those one finger typists out there, but as long as you can type pretty well, you should be okay.
I do recommend TranscribeMe to anyone looking to make money transcribing short audio files. To join visit the TranscribeMe Website.
If transcription work interests you, make sure to check out the free course available at Transcribe Anywhere.
This might not be the best opportunity for everyone so if this doesn't sound like your cup of tea check out some of the other work from home opportunities I've marked scam free.
If you're looking to work from home, but want to be your own boss, check out my #1 recommendation. It's how I work from home and make a full-time income just by helping people make money online!
Thank you for reading this TranscribeMe Review.
Have you worked for this company? Interested in a Transcription Job? Let me know your thoughts below!