6
Is Musicxray A Scam? My Music xray Review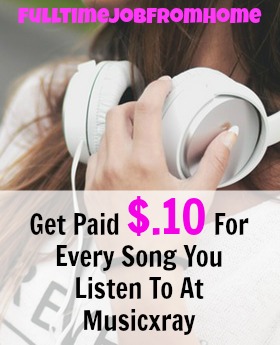 Today I ran across a super cool site called Musicxray that will pay you to listen to music. I've written a few reviews in the past about getting paid to listen to music, but honestly Musicxray is much better than any of those sites.
Musicxray offers a few different accounts. One for artists where you upload your music, an industry professional where you can discover up and coming artists, and a fan, which is where you can listen to music and get paid for it. This review is going to cover the fan portion where you can earn some cash!
As you can probably guess Music Xray isn't going to be a huge income that makes you rich, but if you enjoy music and listen to music you might as well get paid for it.
In this Musicxray Review, I'll answer is this site a scam, show you how it works, talk about payments, and all the important details of this site!
---
How Does Musicxray Work?

Before I go into the fan side of things, I'd like to cover how Musicxray works in general. Musicians pay a fee to sign up. For the fee, Musicxray will send out there music to targeted "fans." Fans have the option to check out more of the artist's music, leave feedback, and even pay the artist.
Since Musicxray charges the artists to promote their music, they're able to pay fans for listening to music. Now let's cover how the fan side works.
1) Sign Up for A Musicxray Account: 
Sign up is super simple; they allow you to join by email, or you can join on Facebook or Google Plus.
2) Set Up Favorite Bands
Artists don't just pay to have their music sent to everyone; they want targeted listeners who have an interest in similar artists. You'll need to enter 10 of your favorite artists along with five genres of music. You can also connect the Facebook Music App, where they can get even more detailed information about your favorite bands.
3) Wait For Matched Music 
After you're done completing your profile, Musicxray will begin to send you music that's similar to your interests. Every time music is available you'll get an email notifying you.
4) Listen To The Matched Music
Log in or click the link in the email. You can then listen to the music they matched to you. You have the ability to like a song, listen to more of the artist's music, skip the song if you're not interested, and even leave feedback and tips to the artist.
5) Get Paid 
For every song you listen to on Musicxray you'll get paid $.10. I know it's not a huge amount, but it can add up!
---
Music Xray Review
Website: Musicxray.com
Price: Free To Join
Score 90 Out of 100
Verdict: Legit
In this Musicxray review, I gave them a good score and marked it legit. There's a few complaints I have with this site, but overall this is an excellent way to get paid to listen to music. Personally this is the best "get paid to listen to music" site that I've ever reviewed.
I like the easy PayPal payments, and that you get targeted music, you like sent directly to you. The big concern is this isn't a huge income opportunity, but to me, you might as well get paid for something you already do.
---
How Does Musicxray Pay?
You'll get paid $.10 for every matched song that you listen to. I know it might not seem like much, but it can add up and if you take advantage of the tips I mention in the next section you can make a good chunk of change.
Musicxray pays via PayPal at any time. They do have a minimum cash out amount of $20.
---
How To Earn More With Musicxray?
Referral Program
Music Xray does have a referral program, which they an affiliate program, but it's the same thing. They let you easily invite your friends via Facebook or email and have easy to use social buttons that include your referral link. For bloggers, they do give you a referral URL to post on your website.
With the referral program, you get paid 15% of all your referrals earnings. You only earn 15% of money spent by artists, you earn nothing for referring fans (people who listen to music.)
This is the easiest way to earn more with Musicxray, and the best part is you let others earn for you!
Connecting Facebook Music App
Now I'm not 100% sure on this, but I've heard that people who connect the Facebook Music App usually get more music sent to them. Honestly, it makes sense because they have more information to send targeted music to you.
Of course, more songs means more money!
---
Musicxray Positives & Complaints
Get Paid For Something Cool
Almost everyone listens to music, why not get paid for something you already do. Musicxray won't be a huge income, but if music is something you like you can make money and enjoy a hobby!
Easy To Use & Easy Payments
The system and process is incredibly easy. Once you sign up all you need to do is watch for emails. Also, the payment system is super easy, reach the cashout amount and get paid in a few days via PayPal!
Not A Huge Income
Obviously, this isn't going to make you a millionaire. This is a few extra bucks each month for something you enjoy. As long as you know this, you should be very happy with Musicxray.
How Many Songs Do You Actually Get?
Here's my big concern with this site. How many matched songs do you receive? I've used this site now for a bit, and I've seen at least a couple songs a week into my inbox. A couple of times I've had many songs available. It all depends on what genre of music you like and how many artists are paying to get their music out there in that genre.
With the amount of songs you receive this isn't going to be a huge income, but you should be able to reach the cashout amount every couple of months pretty easily.
---
Is Musicxray A Scam Or Legit?
Musicxray is not a scam; it's a completely legit way to listen to music and get paid. There're some concerns about the site, but overall this is the best get paid to listen to music site I've ever seen by far.
This is not going to be a huge income by any means, but if you listen to all the music that they send you, you can make some extra spending money. I've started to use this site consistently now, and I'm very happy with it. I don't get tons of songs, but hey I'm still getting paid for listening to music.
If you'd like to learn more or to join, sign up for fan account at Musicxray.
As mentioned, Musicxray isn't going to be a huge income. If you'd like to see some sites, you can use to build a larger income along with Musicxray visit Scam Free Extra Income Sites.
If you're looking for a large online income, check out my #1 recommendation. It's how I work from home as my own boss!
Do you think Musicxray is a scam? Are you interested in getting paid to listen to music? Let me hear your thoughts on this review in the comments below!