6
AdMe App Review: Scam or Paid To Unlock Your Phone?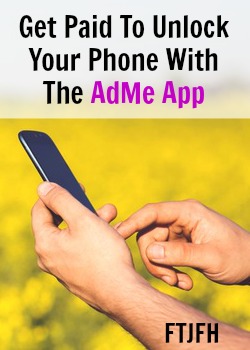 The AdMe App is available in the Google Play Store only and pays you to view ads when you unlock your Andriod device. Over the past few years there's been similar apps out there, but it seems that users think that AdMe has the best and most consistent pay out of all of these apps.
AdMe won't be a big income, you'll be earning pennies for having ads appear on your phone. You don't need to interact with ads, and even if you do you won't get paid more.
As long as you know that this will just be earning pennies overtime, you should be pretty happy with this app.
In this AdMe Review I'll cover how it works, how you're paid, and the complaints I have with this app.
---
AdMe App Review
App: AdMe

Price: Free
Score: 85 out of 100
Verdict: Legitimate 
In this AdMe Review I gave them a pretty good score and marked it legitimate. I've seen a few other apps just like this one, but from what I've seen members think AdMe is the best paid to unlock your phone app out there.
I wish there was a set amount that you make for unlocking your phone, but members think this is the most consistent payment structure out of all the other apps.
Overall a good app to use if you don't mind the hassle of seeing ads every time you go to unlock your phone.
---
How Does AdMe Work?
1) Download The App & Earn $1
The first step to gettting started with AdMe is to download the app in the Google Play Store. It's completely free to join and only takes a few seconds to get started.
Once you download the app you'll be paid a $1 sign up bonus just for joining!
2) Start Viewing Ads
Once you've installed the app, it will begin to show ads when you go to unlock your phone. You can choose to completely ignore the ad or interact with the ad, but you're paid the same amount either way.
They say to make the most cash possible you should use your phone normally throughout the day, not just unlocking it 100 times in a row to earn. Consistent use of your phone through out the day is the key to making the most cash possible.
3) Check Balance & Cash Out
Everyday you earnings will update, but they can be on a few day delay. You already earned $1 for joining and will need to earn a total of $10 before you can cash out via PayPal.
---
How Much and How Does AdMe Pay?
First I'd like to cover how AdMe pays. To get paid you'll need a PayPal account. You can cash out once your account reaches $10. AdMe makes payments twice monthly, I'm assuming at the beginning and around the 15th of each month.
From what I can see most members are making from $10-$20 a month from this app if you use your phone everyday. So it's not going to make you rich, but can be a decent supplementary income.
---
How To Earn More With AdMe
The only real way to make more with the AdMe app is through the referral program. You can share on social media or grab your referral link and post it on your website.
For every friend you invite to AdMe you'll earn $.50.
*At this time it says you can earn $1 for inviting a friend for a limited time only.
---
AdMe App Complaints & Concerns
Similar Apps Closing Down
I know in any niche or business sector some companies make it and some companies don't, but it seems that there's been quite a few apps just like this that haven't made it. I think it's hard to run an app like this that only makes money from showing ads, especially when people are earning pennies.
I'd say most people give up on the app before making enough money to cash out which gives me concerns that this app will make. With that being said this app seems to have the most positive reviews, mainly because people feel like payments are the most consistent.
Not Sure How Much You're Really Making
I've never been a fan of sites and apps that don't tell you exactly how much you'll make for completing a task or viewing an ad. AdMe pays you based on how often you use your phone and view ads, but there's no real public compensation structure.
With that being said members think this app pays the best out of any other, so I have to say although you don't know the exact amount you'll make, members are still happy.
---
Is AdMe A Scam?
Although I've seen a few other similar apps close down, it seems that members are very happy with AdMe. I have to say this is a scam free app, but you should know that you'll be earning pennies. Some of you may find the ads more annoying then what it's worth, but that's for you to decide.
If you'd like to learn more or to join just download the app in the Google Play Store.
Personally I don't use this app because it's not worth it in my opinion, but that's up to you. I prefer using apps and sites that can make more money. I recommend checking out how I make a full-time income with My #1 Recommendation or these awesome extra income sites.
Do you think the AdMe App is a Scam?